Rappahannock Astronomy Club Mission
We are a club of amateurs who love astronomy. We are centered in Fredericksburg, although our membership also includes many who live in the surrounding counties. If you want to learn more about astronomy and the night sky, we invite you to attend our public star parties and monthly meetings, each of which begins with an educational program.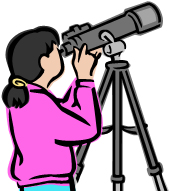 Beginners are welcome! Owning a telescope is not a requirement — but if you have one, we'll help you learn how to use it. One of the most important goals of RAClub is to educate the public about astronomy and to raise awareness of the negative aspects of light pollution. As a result, RAClub conducts public outreach events and school lectures by request for schools, parks, and other educational and civic organizations. We also conduct programs for Scouts. We can provide expert advice and instruction on telescopes, accessories, books, and star charts, as well as how to observe the night sky.
Rappahannock Astronomy Club Resources
RAC maintains an email network for member communication. It's part of the club's Groups.io for distribution of current astronomy news. RAC is an affiliate of the Astronomical League. RAC members may also join the AL.

RAC is an associate member of JPL's Night Sky Network (NSN). NSN enables visitors to search for astronomy clubs in their area. It also provides calendar services for club event announcements. Finally, NSN provides educational materials to clubs.
Rappahannock Astronomy Club History
RAC was founded as the Triangulum Astronomical Society in 1983 by Al Ventura, who placed an ad in the local newspaper asking anyone interested in attending an initial organizing meeting at Mr. Gatti's on Rt. 1 in Fredericksburg. Twelve people showed up, and the club was born. The early days featured meetings at members' houses, with stargazing afterward. The club eventually began meeting at the Central Rappahannock Library and even went on field trips to places like Greenbank Radio Observatory. The name was changed to Rappahannock Astronomy Club circa 1995-96. See our monthly meeting schedule for program topics and meeting locations. See our star party schedule for schedule and locations of free, public star parties.